Chipotle + Shutterstock Custom
Chipotle Mexican Grill is a global quick-serve restaurant brand that aims to make good food accessible to everyone. Their menu items are customizable, so customers can craft their own meals that are appropriate for any diet.
Candice Beck, the Social Media Strategy Manager at Chipotle, partners with their creative team, agency partners, and content partners to formulate social media content calendars every quarter. She works with still photographers, animators, illustrators, and technology vendors to create, curate, and develop content across social channels with a variety of themes. All of the content is designed to cohesively work together to support Chipotle's strategy and establish an always-on content calendar.
With a mix of their clever and humorous brand voice and beautiful food photos, social media provides a perfect platform for Chipotle to reach their target audiences.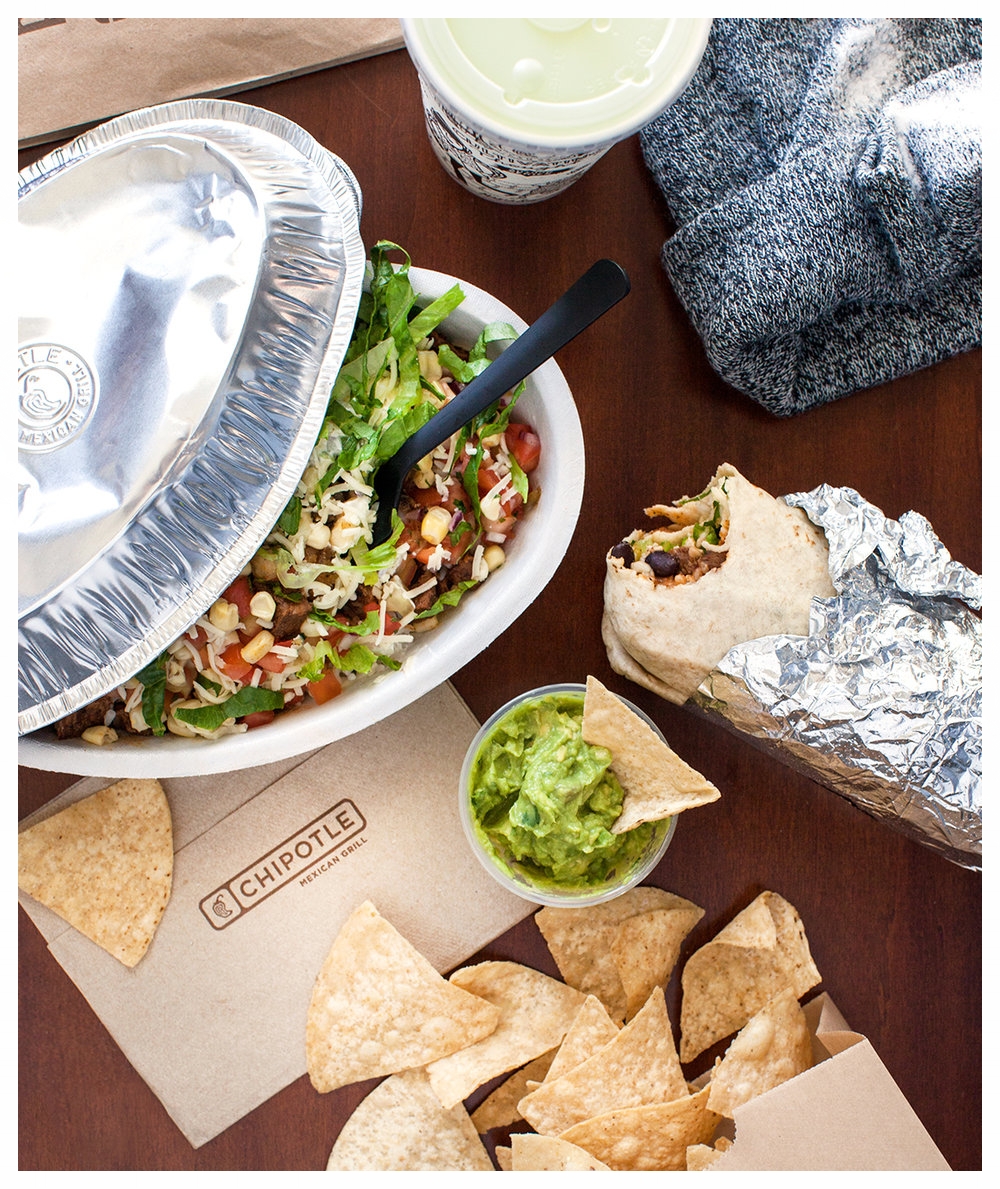 MEETING CONTENT DEMANDS WITHOUT SACRIFICING BRANDING STANDARDS
Although Chipotle's approach to social media has evolved drastically over the last few years, their iconic brand voice has remained constant.
For channels like Twitter, focusing on copy-only humorous tweets drives solid engagement. But what about visual channels like Facebook and Instagram? Combining beautiful food-focused imagery with the brand's iconic voice enables Chipotle to stand out and drive engagement with various customer groups on social channels. Subtle cues allow the brand to hone in on certain target groups, while still appealing to their broader audience.
After a slight restructure, Candice and the Chipotle marketing team focused their social media marketing strategy. The team worked with agency partners to develop and analyze insights based on previously published content. The results fed into a social media plan and content calendar that supports the insights. But this process brought up another challenge: How do you create enough content in a cost efficient way, without sacrificing the brand's high standards?
THE BURRITOS ARE BIG BUT THE TEAM IS SMALL
Even though Chipotle reaches revenues in the billions, they still consider themselves a small company. Internally, the marketing team is very lean.
In 2015, the social media team's approach was scrappy, and they often repurposed content on various social channels. Marketing resources were used on other projects, which didn't leave a lot of helping hands (or budgeting dollars) for creating custom content. Without options to work with, the social team's opportunities were limited. Candice and her team needed a solution to help scale content creation, while upholding the brand's high standards for imagery.
"Just because we're asking for more content, we would never let our standards drop. In looking for a content partner, we [were] looking for someone who understands the brand, understands our high standards, and then executes based on the briefs we deploy."
- Candice Beck, Social Media Strategy Manager
CONNECTING FOOD IMAGERY TO HUNGRY PEOPLE ON SOCIAL MEDIA
Initially, Candice and the team started by hiring photographers they had worked with in the past to help create content. But ultimately, Chipotle needed much more content - and a wider variety - to support their social media strategy. Shutterstock Custom, as an official Facebook and Instagram partner, was introduced to the Chipotle marketing team as a platform that could help leading brands scale content creation in a cost-efficient way.
When Chipotle was evaluating the Shutterstock Custom platform, they looked at different brands we had worked with in the past and the briefs we had deployed. The number one criteria for Chipotle was the quality of the content; it had to meet their brand standards.
"The first thing we were always going to do is look at the content and make sure it was up to par and up to Chipotle standards. Once we knocked that out, it was honestly an easy decision. Shutterstock Custom is a cost-effective way for us to develop a lot of content in a short amount of time that still meets Chipotle's high standards."
- Candice Beck, Social Media Strategy Manager, Chipotle
Once Candice started using Shutterstock Custom, the Chipotle team quickly deployed briefs with various themes and scenarios that supported their social media content calendar.
CREATING BEAUTIFUL CONTENT IN AN EASY TO USE PLATFORM
When the Shutterstock Custom platform was first implemented, Candice and the Chipotle marketing team went through an onboarding exercise that helped calibrate their brand look and feel for their imagery.
This detailed process went through the dos and don'ts of creating imagery that was unique and specific to their brand. Candice was presented with different imagery options, including lighting, tone, color, composition, people specifications, product usage, and much more. This product informed Master Brand Guidelines that ensure a consistent look and feel for Chipotle's content, regardless of the platform.
Candice quickly utilized every aspect of the platform to help with their content creation. Having access to creative talent around the world gave Chipotle opportunities to create seasonal content for winter, spring break, and summer campaigns shot in Canada, California, and Florida respectively. Chipotle's well-crafted briefs enabled contributors to create content featuring their product in lifestyle settings to support their always-on social media strategy.
Chipotle's team was also able to experiment with creative concepts through the Shutterstock Custom platform, such as a "Burritos In The Air" brief, and a romance-themed brief that was used to announce the winners from a Valentine's Twitter haiku. Winning submissions were superimposed atop Shutterstock Custom-created content, and the visuals were posted as a Facebook album.
Candice appreciated how easy it is to deploy briefs using the Shutterstock Custom platform:
"Shutterstock Custom's platform provides us a quick and easy way to give our feedback, and note our favorite photographers, which then sets us up for the following brief. We're able to select our favorite photographers that show the photography style that we really like. We're able to note specific features of our food or packaging; things we want to show and things we don't want to show."
- Candice Beck, Social Media Strategy Manager, Chipotle
SAVING TIME ON PLANNING AND EXECUTION
So far, Chipotle has completed 44 briefs, amounting to over 1100 custom photos created for their specific needs. They've scaled content creation to include shots in the United States, Canada, London and Paris.
Shutterstock Custom is also one of Chipotle's only partners for content that is shot outdoors. Our cost-efficient method for creating content has simplified tasks - such as shooting outside - which can be logistically complex and expensive to execute effectively.
Overall, Shutterstock Custom provided days of time savings for their team in planning and execution. Content briefs are submitted to photographers through the platform, and content is turned around without the team having to travel or be on set.
"We were looking to create a lot of content. If you're a lean, scrappy team, and you need as much content at your fingertips as possible, then Shutterstock Custom is the way to go. You're going to get content that fits your brand and it's going to be to your standards. If you're a brand who's looking for a way to create high-quality content in a cost-effective and timely manner, I would definitely recommend Shutterstock Custom for sure."
- Candice Beck, Social Media Strategy Manager, Chipotle
Learn how Shutterstock Custom can help you globally scale content creation by requesting a demo.