Drumstick Canada is a premium brand under the Nestle portfolio with over 80 years of experience in the industry. They control approximately 70% of the Canadian home ice cream market share. They specialize in creating ice cream cones with a scoop on top, flat top cones, and mini cones - all of which are customizable with sprinkles, nuts, and other features. Drumstick Canada is also known for their tagline "the original sundae cone you can count on for layers of delicious fun."
Drumstick Canada maintains a healthy relationship with Nestle's corporate headquarters in Vevey, Switzerland. Drumstick Canada was supported by Nestle when they expanded their business operations at the beginning of 2017 into social and digital media.
Stacey Marsello is the Assistant Marketing Manager of Drumstick Confectionery Ice Cream, and one of the people hired to manage the brand's expansion into social and digital media. But Stacey and her team were challenged to create enough content to increase the customer following, and allow the brand to thrive on those channels. The in-house digital team is a very lean group, and their creative capabilities are limited by time, budgets, and internal resources.
They also had to appeal to a new demographic. Research shows that working mothers of families, Drumstick Canada's original target audience, were actually buying the products for members of their family like teens, tweens, and even young adults. As a result, the brand had to skew their marketing strategy towards the younger crowd.
Keeping it all in the family
One of the challenges in targeting a new demographic is that it forces you to change how you promote your content. When appealing to mothers of the family, Drumstick Canada relied on retail and in-store promotions, such as coupons, to make the connection. Stacey and her team realized that this was not a viable tactic to reach the younger audience.
Studies have shown that millennials and Gen Z consumers spend several hours each day interacting with social and digital content. At the beginning of 2017, Drumstick Canada had no social or digital presence, and began the year with a hiatus from promotional communications.
When they began brainstorming social and digital content, Stacey and her team had no visual identity for the brand. Their content was based upon the company's written mission statement, which lacked specific guidelines to visualize the look and feel of the brand's content.
"We want to honour our roots and traditions, but at the same time we want to inject fun into the brand. At the end of the day, we have a young target demo who follows the newest trends and we want to resonate with them. Indulgence and fun is the mindset we want to adopt."
- Stacey Marsello, Assistant Marketing Manager of Drumstick Confectionery Ice Cream
Building a unique visual identity through content
Recognizing they needed help to create social and digital content, Stacey and her team searched for creative experts who could provide their services. They contacted a number of agencies that specialized in creating content, but were less than impressed with the expensive fees charged for those services.
Stacey also concluded that the working processes and turnaround times promised by the agencies were not sufficient enough to match Drumstick Canada's standards.
Seeking advice from other divisions within Nestle, Stacey spoke with her US Drumstick counterparts and learned about a solution called Shutterstock Custom. She and her team reviewed content created for the US Drumstick brand, and they were very impressed by the quality of the work.
Stacey later received a referral to Shutterstock Custom, and recognized that her team had the solution they needed.
"This year, in 2017, we didn't have an agency that we worked with and our budget was a challenge. Also, our in-house team is a lean operation, and we don't have the budget or resources to create custom visual content."
- Stacey Marsello, Assistant Marketing Manager of Drumstick Confectionery Ice Cream
Digital content creation at scale
Upon connecting with Shutterstock Custom, Stacey and her team consulted with Client Success Manager Elizabeth Houde about a visual calibration of the Drumstick Canada brand. Having assisted the US brand in establishing their own identity, Shutterstock Custom quickly put a calibration plan into motion for the Canadian brand.
Stacey and her team had a hard deadline to meet for custom-made content. Drumstick Canada is an official sponsor of the Toronto Blue Jays, and arranged to promote their brand on the team's stadium jumbotron beginning in the home opening game. Stacey and her team were very impressed when Shutterstock Custom met the deadline in time for the Blue Jays home opener.
Later in the summer, Drumstick Canada had an opportunity to run TV spots during the Rogers Cup. The Rogers Cup is the Canadian leg of the world tennis tour and airs nationally on the Canadian broadcast channel Sportsnet. After consulting with Elizabeth and the Shutterstock Custom team, Drumstick Canada repurposed the content made for the Toronto Blue Jays to air on Sportsnet during the Rogers Cup. One of Drumstick Canada's creative agencies added music and animations to make the ad TV ready.
"We saved a significant amount of money, allowing us to add in music and animations through one of our agency partners. Elizabeth and the delivery team ensured the video was created in the correct format and within the right timeframe."
- Stacey Marsello, Assistant Marketing Manager of Drumstick Confectionery Ice Cream
Drumstick Canada also creates content in collaboration with some of their biggest brand partners. One of those partners is Xbox Canada, and Stacey asked Shutterstock Custom to ensure Xbox's standards and visual guidelines were incorporated into the content used for those promotions. Xbox Canada even shipped their products to the creative talent who shot the content, which ensured the look and feel of both brands was included in the custom assets.
According to Stacey, Drumstick Canada's partners were very impressed by the Shutterstock Custom experience. She also said the joint experience with Shutterstock Custom helped the business relationship between Drumstick Canada and Xbox Canada.
"Our partners felt very involved in that sense and appreciated everything we could come back with that felt custom, tailored, and on-brand for both Drumstick and them. They were impressed with the business model."
- Stacey Marsello, Assistant Marketing Manager of Drumstick Confectionery Ice Cream
In addition to external promotions, Drumstick Canada overhauled the look and feel of their website during the summer of 2017. As part of an effort to recognize their history while injecting indulgence and fun into the brand, Stacey and her team determined that the content created through Shutterstock Custom was the best fit for the new look of the website.
The content fit the tone and style that Drumstick Canada needed to reach their target audience,. Drumstick Canada added the content onto their newly established Facebook page where it was used for both organic and paid promotions.
"There were also images that were resized for the website. We were most impressed by the fact that we can leverage those images for projects that were originally outside the original scope of the brief. Your team helped us with the visual identity, and it made sense to have you help us with this task of website content."
- Stacey Marsello, Assistant Marketing Manager of Drumstick Confectionery Ice Cream
Coinciding with the creation of the content was Drumstick Canada's #OwnTheCone contest. They invited participants to share photos of themselves enjoying Drumstick Canada products to Facebook and Instagram with the hashtag #OwnTheCone.
To promote the contest, Stacey and her team used a combination of pre-produced Nestle and influencer generated content alongside their new Shutterstock Custom content. The campaign generated 21 million impressions, primarily across organic and paid social media. Collectively, 75% of those total impressions reached the target audience of 17-24 year old lovers of ice cream over the course of 5 weeks.
Multiple use cases with excellent results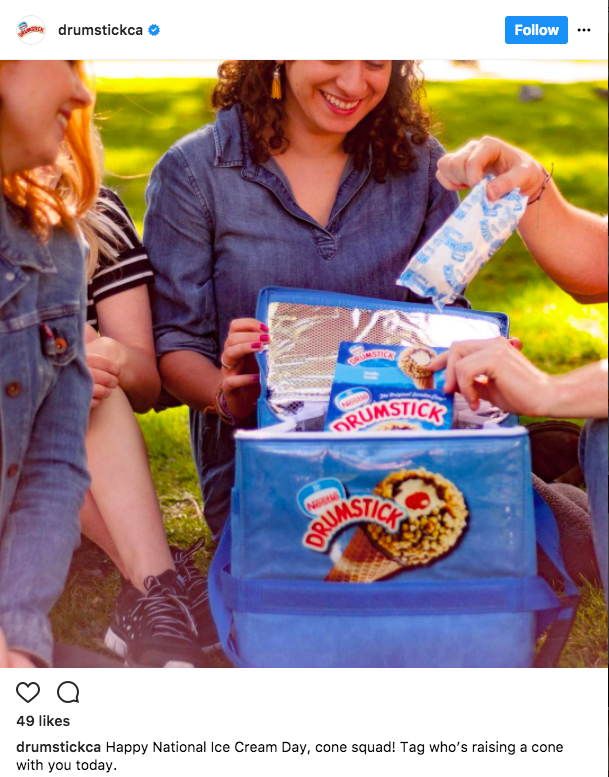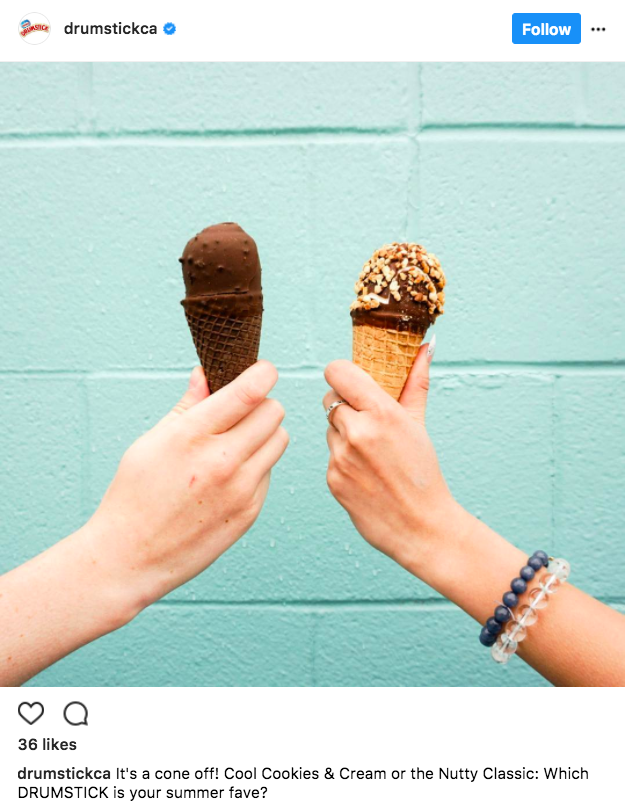 Stacey was amazed by how much was accomplished with Shutterstock Custom in such a short amount of time. Drumstick Canada wanted to build a unique brand identity that differentiated them from other competitors in the market, and was also distinct from the US division of the brand. Stacey credited Shutterstock Custom for helping her team build that visual identity.
To date, Drumstick Canada has completed 7 briefs with Shutterstock Custom. The content accurately expresses the tone and style created in the visual calibration, and maintains the high quality standards of the Drumstick Canada brand.
The content was originally created so Drumstick Canada could build a distinct social and digital media presence. But they were able to repurpose that content for projects originally outside the scope of the briefs. This saved the Drumstick Canada digital team time and money, and also removed many of their creative limitations.
The content created using Shutterstock Custom also delivered admirable results. Stacey said the dynamic content performed very well in terms of total impressions, completion rates, and even boosted clickthrough rates. She was also very happy with consumer interest shown in the Gifs and visuals promoted across the channels.
Stacey said she couldn't think of any other company that could provide Drumstick Canada the value provided by Shutterstock Custom for their Summer 2017 campaign.