Johnny Rockets + Shutterstock Custom
Johnny Rockets is a global quick-serve restaurant chain that provides a classic all-American experience. Their menu consists of high-quality, innovative food products with specialties in burgers, shakes, and fries. They are also known by the tagline "The Original Hamburger," a slogan beloved by millennials and boomers alike.
Jericho Lopez is the Director of Marketing, Digital Strategy, and Public Relations at Johnny Rockets. She oversees the strategy for social and digital marketing, which consists of content for social media, online and mobile advertising, email marketing, and other digital aspects of the brand.
Jericho has a team consisting of digital marketers, brand marketers, and event coordinators. She also liaises with operations, franchise sales, and field marketing teams. Together they identify brand visuals and imagery to use for social and digital content. They also use visuals in training manuals, flyers, and for in-store signage used by franchisees.
They actively promote content to mothers and their families, young and hungry professionals, business men and women, as well as people who describe themselves as 'on the go.'
The Johnny Rockets marketing team is managed out of corporate headquarters in Lake Forest, California. They oversee marketing operations around the globe and provide creative support to their many franchisees. As a lean global marketing team, they collaborate with creative partners who can help them produce visual content at scale.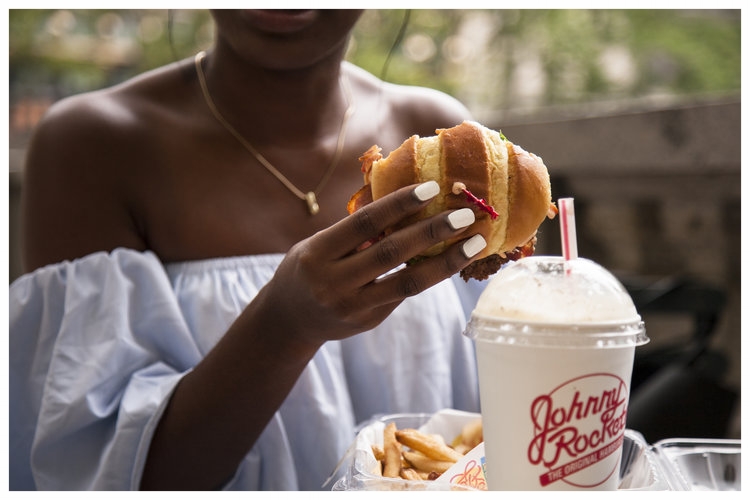 ENABLING FRANCHISEES AROUND THE WORLD
Johnny Rockets has nearly 400 restaurants located in 32 different countries. Approximately 10% of those establishments are corporate-owned while the remaining restaurants are owned by franchisees.
To support franchisees across the world, the company requires an abundance of visual content that remains true to the look and feel of the Johnny Rockets brand. Specifically, visual content is used to boost brand engagement and support marketing promotions in specific geographic locations.
"Shutterstock Custom really helped us, from a franchise sales standpoint, to get architectural images of our restaurants. Not all of us can fly over to Italy. The way we used to do it is go through Google or go through our franchise partners and find a photographer over there. Having this solution helped us execute was very useful."
- Jericho Lopez, Director of Communication and Digital Strategy
CONNECTING WITH PEOPLE WHO LOVE BURGERS, SHAKES, AND FRIES
Jericho wanted to build a library of authentic, high-quality custom content that could be leveraged by both the global team and franchisees for their wide array of needs. She and her team recognized the power of engaging audiences using relatable on-brand content in order to build and maintain connections.
Upon learning of Shutterstock Custom, Jericho was intrigued by the ability to acquire content at a localized level using the global creative network. She appreciated that the solution offered a unique, cost-efficient way to scale global content, and that it could help her team fill their content library.
Incorporating both brand and food style guidelines, Shutterstock Custom was able to integrate seamlessly with Johnny Rockets' existing creative workflows.
DIGITAL CAMPAIGN EXECUTION AT SCALE
As a first step, Shutterstock Custom aligned with Johnny Rockets on their brand look and feel through a visual calibration. Johnny Rockets' brand guidelines were ingested into the Shutterstock Custom platform, and used to guide all content creators on how to shoot on-brand consistent visuals.
Using platform functionalities, the Johnny Rockets team submits creative briefs based on their various content needs. The Shutterstock Custom platform uses data points from their brand guidelines to determine the best content creators whose skills align with the unique brief requirements. The automated creative workflows allow Jericho and her team to leave feedback and iterate brand guidelines so content continually improves.
What Jericho loves the most about Shutterstock Custom is the quality of the content. She was thrilled that the images displayed Johnny Rockets products in lifestyle settings and in new environments. In need of more outdoor content shot outside of a Johnny Rockets restaurant, Jericho values Shutterstock Custom's ability to fill that need.
COST EFFICIENCIES AND TIME SAVINGS
The platform allowed Jericho and her team to reduce the amount of time required to create new content, at a low cost.
"Shutterstock Custom created time efficiencies for our very small group. With only 40 of us running the global operation at the corporate office, having an extension of our team to coordinate the photo shoots was very important. And certainly the cost savings!"
- Jericho Lopez, Director of Communication and Digital Strategy
 
As Johnny Rockets looks to steer budget away from overhead and towards execution, Jericho commends Shutterstock Custom for providing a platform that helps her team achieve these objectives.
So far, Johnny Rockets and Shutterstock Custom have produced over 575 image and motion format assets together, including localized content across the US, Costa Rica, Italy, Korea, Mexico and Dubai.
Learn how Shutterstock Custom can help you globally scale content creation by requesting a demo.